Now I'm working on online schematics editor/simulator with potential ability to generate PCB layouts. It's very unusual mix of technologies: on the client side - JavaScript and Roberta bytecode interpreter; on the server side - SQLite and
Hopeless
. Currently it's only sandbox kind of toy - you may draw schemes or boards by "old school" DOS pseudographic characters on one global black board: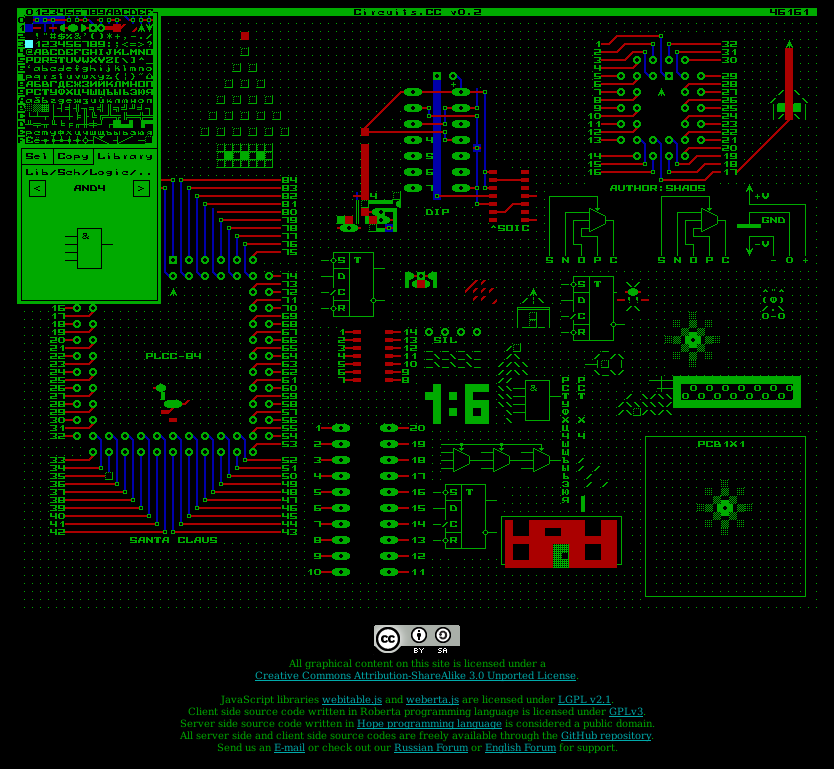 No logins, no private boards - everybody will see what you are doing!
But I monitor activities by IP-address - just in case

http://Circuits.CC
Web-site tested on these browsers:
FireFox 16.0 and 17.0 (good experience - developed on it);
Chrome 23 (best experience);
Safari 5.1.7 (best experience) and v4.1.3 (a little slower);
Opera 9.64 (slow), 10.63, 11.52 and 12.1;
Konqueror v4.5.5 and v4.8.4;
Internet Explorer 8 and 9 (slow, but working);
And even web-browser in Android v2.3.6

Any suggestions are welcome!
P.S. Screenshot updated on December 23rd, 2012 with v0.2 - now it has a number of libraries and copy/paste feature!