[ENG] [RUS]
Sprinter Software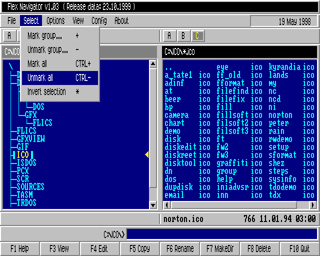 Flex Navigator? file manager similar to Norton Commander, but implemented in graphics mode. You can set full path to executable in SYSTEM.BAT? after that Flex Navigator? will be launched after each reboot.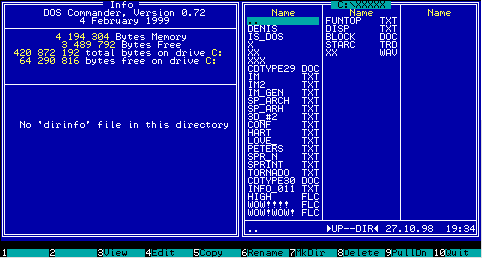 File shell DOS Commander?, implemented in Norton Commander style. This program allows you easily perform copying, deleting, renaming of the files. DOS Commander? can run other programs, written for new system, and also it can run programs written for TRDOS ? and stored in special (*.trd) files. Also the shell has embedded player for sound files (*.wav and *.voc), player of animated files (*.fli и *.flc), viewer of images (*.bmp). There is a text editor that could be used for text editing.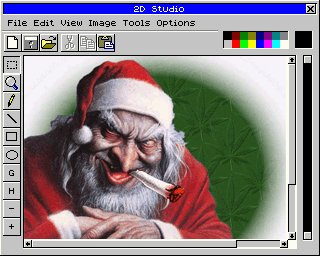 Graphics editor 2D Studio? gives user possibility to edit or create raster image in format BMP. Editor has tools for cut and copying image parts, drawing straight and arbitrary lines, circles and rectangles, filling enclosed areas and zoom mode. The program has modern graphics user interface.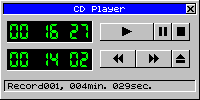 CD Player? allows to listen audio discs from connected ATAPI CD ROM device. Service button from the program window can fast forward and rewind, pause and perform edject. Also window shows current time of the track and time of entire disc.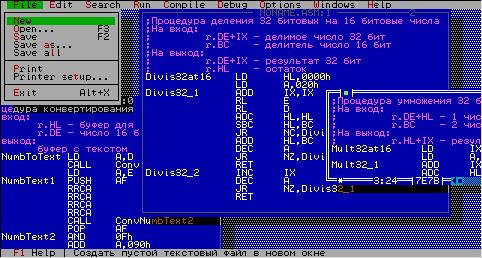 Multiwindow editor TASM? allows to develop programs on Assembly programming language. When user enters text the editor is analyzing entered information and colorize it in different colors, which enhance readability of the text of the program. There are functions to find and replace the text, change of dimensions and moving windows on the desktop. Compile functionality is not yet implemented.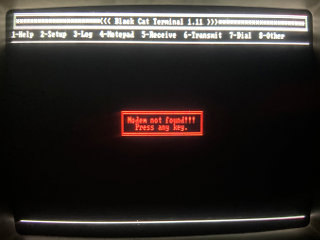 Terminal program Black Cat Terminal? is able to communicate through telephone line using HAYES modem. It supports such protocols as X MODEM, Y MODEM, Z MODEM.
© 1999-2002 PETERS PLUS LTD
Retreived from archives and corrected by Shaos in November 2020
---
Games for Sprinter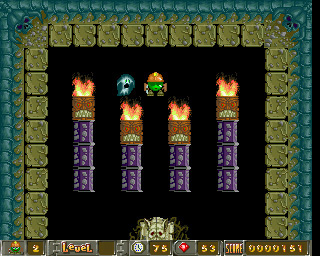 Thunder in the Deep (2003)
---
New demos for Sprinter