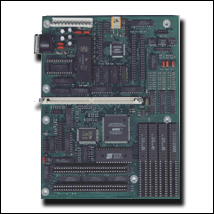 Sp2000 Mainboard is designed for Sprinter computer. The mainboard is shipping in the collected kind and useful in the standard set.
CPU Z84C15 (21MHz / 3.5MHz)
RAM 4Mb
VideoRAM 256Kb (up to 512Kb)
ROM (BIOS) 256Kb
PLD EP1K30QC208-3 by ALTERA
IDE & FDD onboard controllers
Two slots ISA-8
The mainboard Sp2000 was designed for a model series of computer Sprinter. The mainboard shipping in the collected kind and useful in a standard set.
The mainboard was designed for the installation in a case AT minitower and has standard connectors for set the keyboard, power supply, FDD, IDE devices, mouse, printer, joystick and tape recorder, video, real time clock CMOS, button of reset, indicators POWER, TURBO, HDD. Two slots ISA-8 do access to cards in them.
Mainboard Sp2000 (Standard Set) package contents:
Mainboard Sp2000 - standard set include: 4Mb RAM (SIMM 72 pin), 256Kb videoRAM.
IDE ribbon cable connector.
FDD ribbon cable connector.
Audio ribbon cable connector on brecet.
Tape/joystick ribbon cable connector.
Tape/joystick external connector free for your cable.
Printer ribbon cable connector.
Mouse ribbon cable connector.
Video ribbon cable connector.
Video cable with SCART connector.
Video external connector free for your alternative video cable.
3,5" bootable floppy disk.
CD with software archive for computer Sprinter.
Books:
Assembly Guide (eng).
User Manual (eng).
Spectrum Mode Manual (eng).
Weight for shipment - 1 kg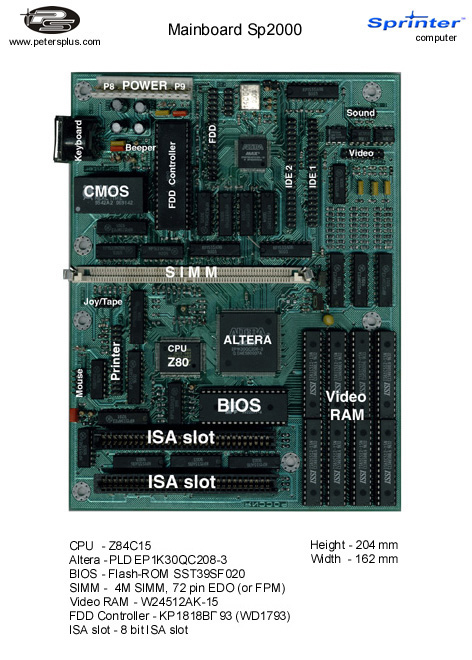 On the image above all 512KB of videoram are shown, but since January 31, 2002 only 256KB was installed on sold boards. Sp2000 offered on petersplus.com since October 2001 for prices from $110 (board only) to $165 (fully assembled computer Sprinter). Last official Sp2000 board was sold on June 11, 2003 for $110. According to News section of petersplus.com it was more than 100 boards sold to customers from 16 countries.
NOTE: Connector IDE 2 currently doesn't work because Altera PLD is not wiring it properly to internal logic, so you need to use IDE 1 only to connect 2 IDE devices to the same bus - 1 master (HDD) and 1 slave (CD-ROM).
PREDECESSOR: Sp2000-Light was earlier version of the same board with minimal number of components to make it cheaper (for example it didn't have ISA slots soldered in), but still functioning as a motherboard of Sprinter computer, and it was offered in 2001 for $85 only.
SUCCESSOR: Sp2000s board with surface mounted videoram 512KB.
Retreived from archives and corrected by Shaos in November 2020